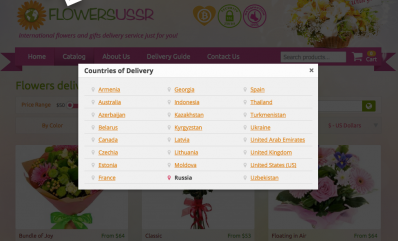 Starting 2017 FlowersUSSR expanded its service to new countries. Now in addition to the USA, Canada, Russia and countries of CIS, our customers can order flowers delivery to Spain, United Kingdom, France, Thailand, UAE, Australia and Bali in Indonesia.
Although FlowersUSSR has been delivering to England, Spain, France, Australia, Thailand and UAE for the past two years, starting November 2017 we launched the catalog for each of these countries and now it takes just a few minutes to send flowers to the loved ones in England, Spain, Thailand, Bali and other countries on our list. Now our customers can see the selection of bouquets and prices for the country they would like to order flowers to.
As always we selected the most reliable and professional local florists in each city of delivery to provide the best quality of service possible.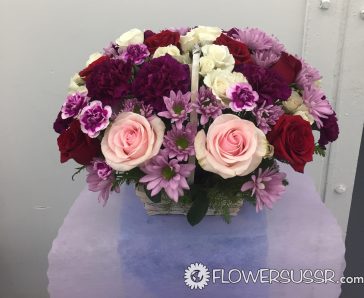 As of now flowers delivery is available to only major cities and most popular towns among international visitors in Spain, France, United Kindom, Australia, Thailand and UAE. In Indonesia we deliver flowers only to the island of Bali. For other cities and towns not listed in the catalog customers can send us an inquiry.
Whether you have a friend or a relative living abroad or staying there for vacation or for a business trip, you can still present them with a gift for their birthday, for Thanksgiving, Christmas or any other holiday. International flowers delivery makes it all easy to send fresh flowers and gifts to anywhere in the world and not be limited to just a phone call or social media message.
Order flowers to your loved ones in United Kingdom, Australia, Spain, France, United Arab Emirates, Thailand or Bali, Indonesia and let us deliver the freshest flowers directly into the hands of the recipient. Convenient payment options including credit card payment, paypal, Bitcoin and other cryptocurrencies make it easy to order flowers from anywhere in the world.