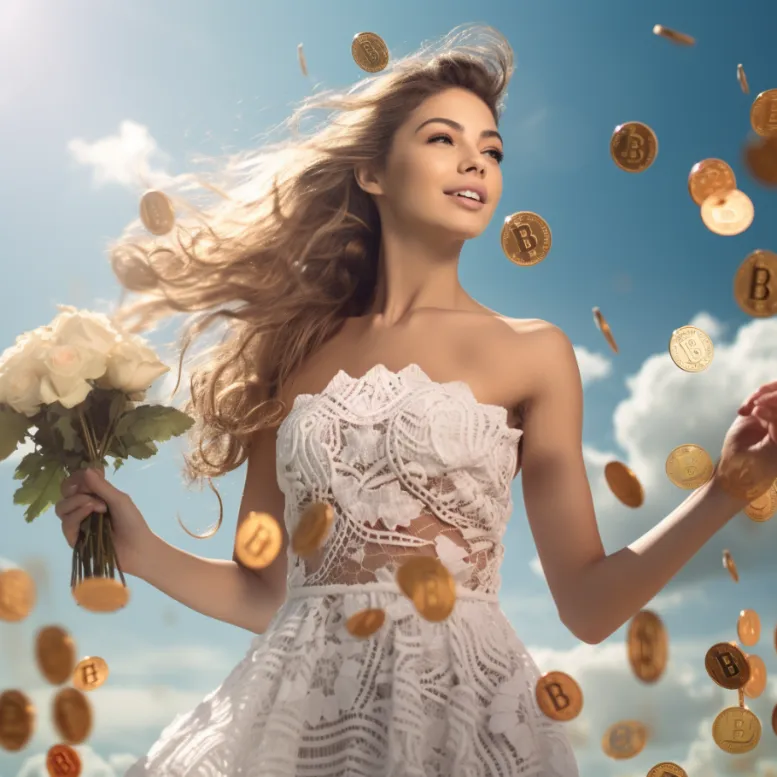 Discover the Future of Gifting with Crypto
Hey, crypto enthusiasts! Have you ever found yourself wondering what to buy with crypto? Dive deep into the vibrant world of FlowersUSSR, the ultimate destination where you can effortlessly buy flowers with Bitcoin and a range of other cryptocurrencies. Here, we're transforming digital assets into tangible, heartfelt expressions of love and appreciation.
Leading the Charge: Embracing Cryptocurrencies in the Floral World
FlowersUSSR isn't just another company that accepts cryptocurrencies for payment. We're trailblazers, pioneers in the floral domain. Since our bold move in 2014, we've empowered our customers to pay with crypto for flowers and gifts. This innovative approach positions us as the go-to platform for those eager to use Bitcoin to pay for flowers delivery.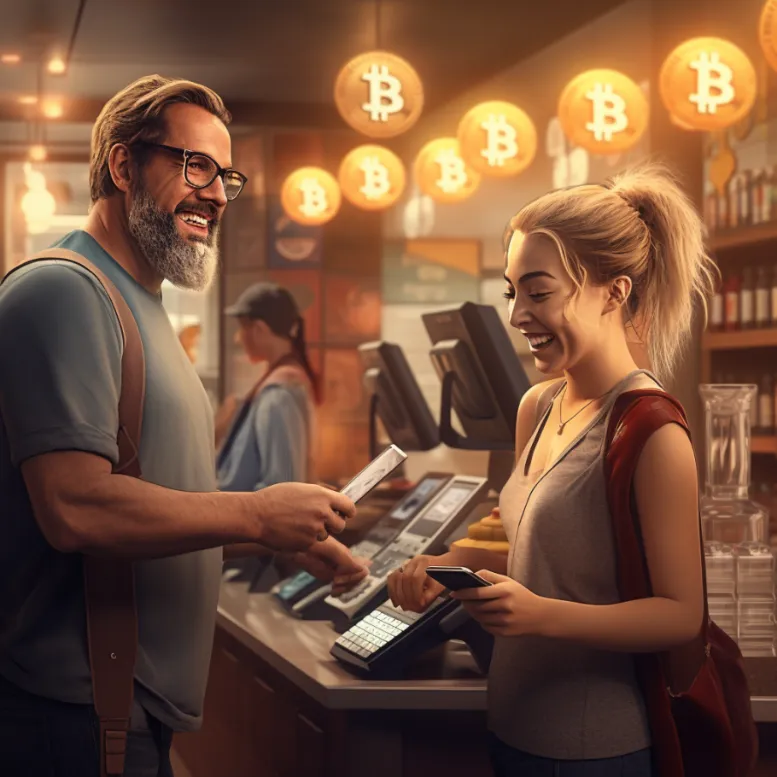 The Advantages of Choosing Cryptocurrency for Floral Purchases
Cryptocurrencies are no longer just for trading or investment portfolios. They've carved out a significant niche in the world of gifting. When you opt to buy flowers with crypto or even buy a gift with crypto, you're choosing a payment method that's not only modern but also seamless and secure. With FlowersUSSR, sending flowers abroad and paying with cryptocurrency ensures that your loved ones, regardless of their location, receive the freshest and most exquisite blooms.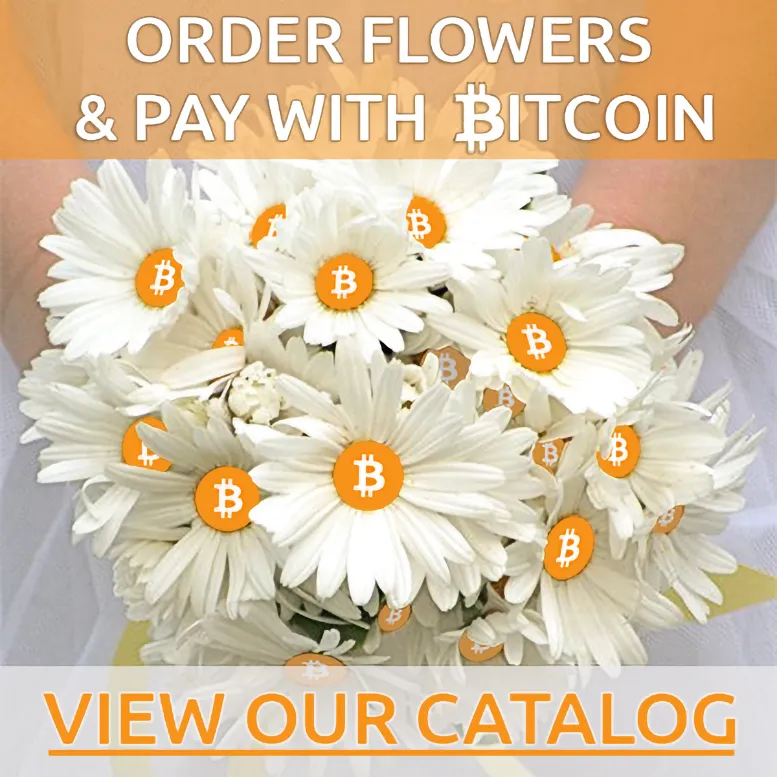 Crossing Borders: International Flowers Delivery with Cryptocurrency
Our commitment to international flowers delivery with cryptocurrency has genuinely revolutionized the floral industry. It's a game-changer for tech-savvy customers looking to send love across continents. Whether you're nestled in the bustling streets of the US, the snowy landscapes of Canada, the historic cities of Russia, or any other picturesque location, all you need is to use crypto to buy a gift or bouquet. We'll handle the intricate details, ensuring your sentiments are delivered perfectly.
A Step-by-Step Guide to Using Your Digital Assets at FlowersUSSR
Embarking on this crypto-floral journey is a breeze. Visit our user-friendly website, browse through our extensive collection of bouquets and gifts, and when you've made your choice, opt for the crypto payment method. Whether your preference leans towards Bitcoin or another popular cryptocurrency, we've streamlined the process. With us, flowers delivery paid with crypto is not only straightforward but also efficient.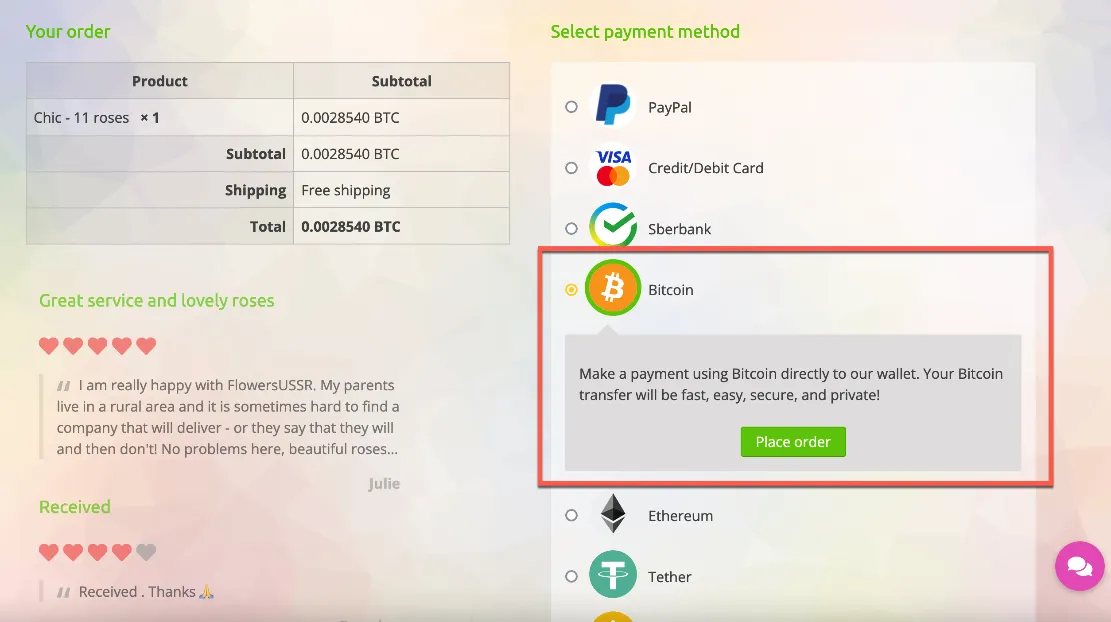 Why Wait? Dive into the World of Crypto-Floral Gifting Today!
If you've been on the fence about where and how to utilize your digital assets, FlowersUSSR offers an impeccable solution. From birthdays, anniversaries, to those spontaneous 'just because' moments, use Bitcoin or other cryptocurrencies to elevate every occasion. Join the ever-growing community of crypto-floral enthusiasts and make every moment count.