Looking at the flourishing flowers delivery services in Russia today, it is difficult to believe that it all happened just within a few past years. Not too long ago people were buying flowers from the market, from "babushkas" selling flowers in public places on the streets, or from small flower booths.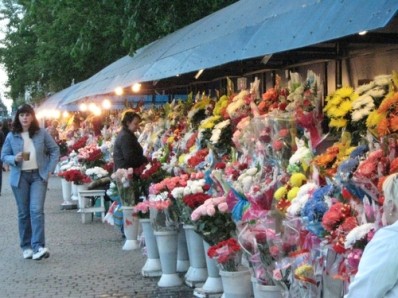 Nowadays each city big or small has plenty of flower shops with professional florists and ever expanding array of services. Today most flower shops in Russia offer delivery services to home or office, website for customers to navigate and order flower delivery, and even delivery services to other cities in Russia and sometimes worldwide.
Gone are those times when in order to express feelings or cherish a memorable date, people had to go somewhere to get flowers to give them to the loved ones later. Gone are those days when the only gift that you could send to the loved ones in other cities of Russia was a postcard or a gift that could be sent in a box via the post office. Today sending flowers to other cities in Russia as well as ordering delivery within the same city can be done from the comfort of your home or office.
Working extensively with flower shops in Russia and USA and having plenty experience to compare, we are sometimes simply astonished with the level of service that Russian florists and flower shops offer today. It looks like high competition as well as timely response to the demands of the market push the local flower shops in Russia to the best possible service a client would ever wish for.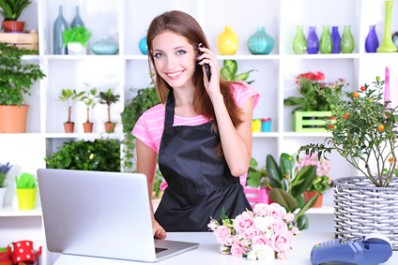 Here are just a few things that stand out in flowers delivery services in Russia:
7 days a week, 365 days a year
Most florists in Russia work 7 days a week and deliver flowers and gifts every day of the year without any closures on weekends or holidays. This is in a stark contrast to most flower shops in the USA that have a shorter working day, are open 6 days a week, and with Saturday being a half-day. Thus having flowers delivery available any day of the year is very convenient! After all, birthdays do not fall only on workdays and cannot wait for the florist to open on Monday morning!
extended work hours
No florists in Russia close their shops at 5 pm as most US florists do. Most of Russian flower shops in Russia work till 8 or 9 pm and some of them offer 24/7 flowers delivery service, especially in major cities like Moscow, St. Petersburg, Yekaterinburg, Novosibirsk, Kazan, Vladivostok, and Chelyabinsk. This is convenient because some people in big cities work until very late at night and come home after 10-11 pm.
picture of delivery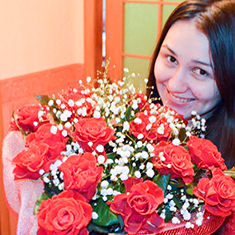 Something non-existing in the USA but widely spread in Russia is receiving a picture of delivery – a picture of the flowers actually delivered to the recipient. All florists in Russia offer this service free of charge and even can take a picture of the recipient with the delivered flowers at the time of delivery if the recipient agrees. If not, the picture of the bouquet going out for delivery is guaranteed. You can see what exactly is being delivered to the recipient and compare the bouquet with the one that you ordered.
professional florists
Flower shops in Russia hire professional florists who had professional training and who can make flowers arrangement of any level of difficulty. Basket arrangements, arrangements in the shape of a heart, animals, toys – all is possible when a professional florist is on task. Many flower shops offer wedding and event decor, so they work with the variety of styles and sophistication.
customization
Most flower shops in Russia do not limit their customers with the choices offered on their website. They are open to work around customer's needs and preferences. When you order flowers to be delivered to Russia, you can always send picture of the arrangement you found on the internet and rest assured that it will be beautifully reproduced with all the details you appreciate.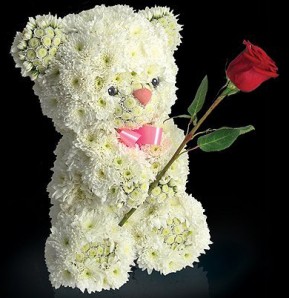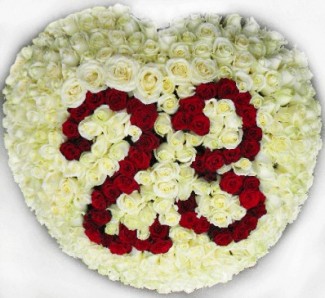 However, that is not the case if you place your order through large florist networks who then relay orders to local Russian companies. You will not likely get the same service as described above, so it is always better to go with as few middleman as possible.
With FlowersUSSR you can rest assured that your order goes directly to the local florist in Russia with all the features described above. Your preferences do matter to us. You can always send us your own version of a bouquet or arrangement you want to deliver to your loved ones in Russia. You can order as exquisite and upscale of an arrangement as you like and trust that the order will go to a professional and experienced florist and that also you will get a picture of the arrangement delivered and confirmation about the delivery shortly after the delivery has been made.
The customization pertains not only to flower arrangements but also to gifts. You can always ask us to deliver a special gift to somebody you care about in Russia and we will do all we can to arrange the delivery of that special gift for you. We've done this many times and our American customers surely appreciated such a level of customization offered for flowers and gifts deliveries to Russia (read about unusual gifts we delivered in various cities of Russia here and here).
And last but not least, you will be satisfied with the prices that our company FlowersUSSR offers for orders to Russia. Experience great service for reasonable prices! Send flowers and gifts to you dear ones in Russia today.