Hey, Crypto Enthusiasts!
Are you sitting at your computer desk, staring at the blockchain transactions and thinking what else you can do with your crypto?
Maybe you're considering surprising that special someone in Indonesia with a bouquet of fresh flowers?
What if we told you that with just a few clicks and a transaction on your favorite crypto exchange, you could make someone's day on the island of Bali or the busy streets of Jakarta? That's right! You can now send flowers to Indonesia with crypto. No more hustling with those traditional banking methods. Welcome to the future of floral transactions!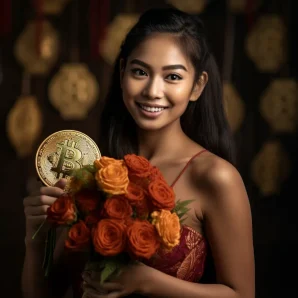 Why Go The Crypto Way to Send Flowers?
Cryptocurrencies have revolutionized the way we conduct business online. They're fast, secure, and hey, they come with a cool factor that no credit card can offer. But here's the clincher: they offer a level of anonymity that's unmatched by traditional payment methods. Want to send a surprise without a trace? Go crypto!
If you've ever thought of buying flowers for that radiant Indonesian woman who's caught your eye, or simply want to send some love to a friend or family, why not flex those crypto muscles?
Floral Delights Meets Tech Lights!
Ever tried searching for a local florist in Indonesia? Scouring through options, hoping they speak English, only to find out they don't deliver to your desired location or, worse, they only accept cash? Frustrating, right? No more!
Enter FlowersUSSR! With a stellar reputation spanning 23 years, we have been delivering flowers internationally, removing the guesswork and hassle from the process.
From the serene beaches of Bali to the urban jungle of Jakarta and the rainforests surrounding Samarinda, FlowersUSSR got you covered.
Your desire to use crypto to buy flowers for an Indonesian woman or man isn't just a tech dream anymore; it's a reality. No language barriers, no location restrictions, and certainly no outdated payment methods. Our vast network of local florists ensures that your selected bouquet reaches its destination, fresh and vibrant, all while you stay comfortably ensconced in your tech bubble.
How To Order Flowers Delivery With Crypto
Select Your Blooms: Browse through our catalog and choose the bouquet you like.
Pick The Destination: Whether it's the artistic hub of Bali, the bustling roads of Jakarta, or the serene corners of Samarinda, just drop in the address.
Checkout with Crypto: Choose your preferred cryptocurrency at checkout. It's simple, swift, and secure. Just the way you like it.
Inform Us About Your Payment: Send us a message via WhatsApp, Telegram or email to let us know that the transfer is complete.
A Glimpse of Our Recent Deliveries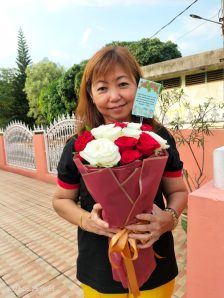 Jakarta Joy: A stunning bouquet of red roses and white chrysanthemums making its mark in the heart of the city.

Tropical Romance: An exotic mix of tropical flowers delivered to a private villa in Bali.
Wrap Up
The world is rapidly changing, and as technology advances, so do our methods of expressing love and appreciation. Our mission is to bridge the gap between emotions and technology. So the next time you want to dazzle someone in Indonesia with fresh flowers, remember, you're just a crypto transaction away.
Flowers delivery to Indonesia with cryptocurrency isn't just a service; it's an experience. Dive into the future, one bouquet at a time!