Whether it is a business partner, beloved woman or family member in Russia, Ukraine, Belarus, Estonia, Kazakhstan or Moldova, there are those occasions when you want to order something  unusual. There are a few quite exquisite flower gifts that seem to grow in popularity in Russia, Ukraine and other counties of former Soviet Union. FlowersUSSR prepared a list of such gifts to orient you to possibilities as most of these unusual gifts are not listed in our catalog but still can be ordered through us.
Gigantic bouquets of roses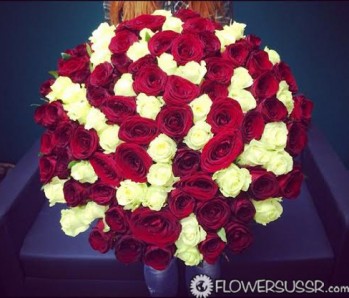 Bouquets of 51 or 101 roses will surely impress any recipient, should it be a woman you are dating or a business partner. Such bouquets can come in classic red or white color or any other color of your choice. Mixed color bouquets are also a good choice as they have extra brightness in them. We regularly deliver such luxury bouquet to recipients in Russia, Ukraine, Moldova, Belarus and you can see more  pictures of delivery on our website here or read our blog post on popularity of gigantic bouquets here. The price varies depending on the country and even the city, so it is better to inquire about the price by contacting us.
Flower cakes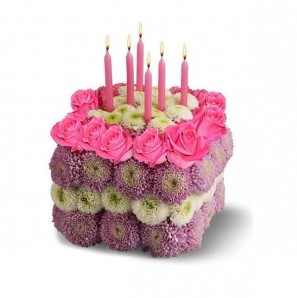 No, it is not those cakes decorated with sugary flowers that you can actually eat. We mean flower arrangement made in a shape of a cake. This means that the recipient won't be able to eat it but they will enjoy this unusual gift for sure.
Flower cakes seem to be a new trend in flower delivery both in the USA and in Russia. These cakes are great as a birthday present and can be decorated with candles.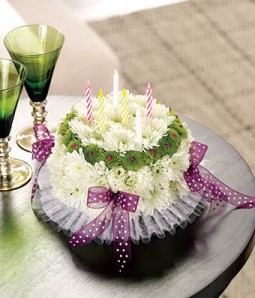 By the way, we can also deliver regular cakes too if you want your beloved one to savor more then just a beautiful look. 
Flower hearts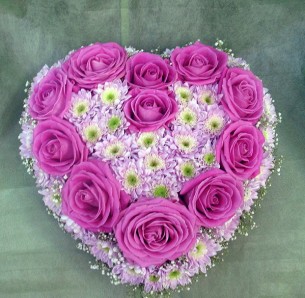 This is one of the best romantic flower gifts available nowadays. What can speak louder then the heart? Especially when it is made of fresh flowers? Such arrangements can come in variety of colors and sizes and be delivered to most cities in Russia and some cities in Ukraine, Belarus and Moldova.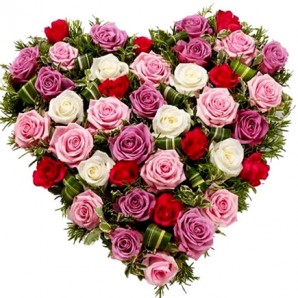 Flower Toys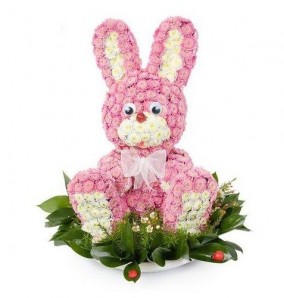 This is still a relatively new floristic trend that became a quite unique alternative to the traditional flower bouquets and compositions. They are shaped as soft toys such as teddy bears, bunnies, dinosaurs, etc. There is hardly any limit to what can be done nowadays thanks to the special floral foam and other accessories partnered with talented and creative florists in Russia, Ukraine, Belarus, Moldova and other countries. You can come up with your own idea or find the picture on the internet and send it to us to make an order.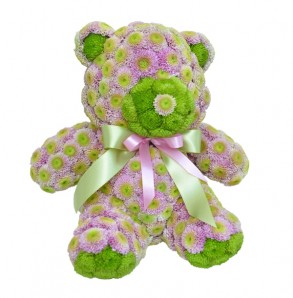 The following few ideas are not exactly flowery, but they do get created by local florists and can be delivered just the same way as bouquet of flowers do. In fact they are bouquets, they are just not made of flowers.
Candy bouquets
We do not know who initially came up with this idea to make bouquets out of candies but such bouquets has been spreading across Russia, Ukraine and Belarus for the past 1-2 years. If you are familiar with the Russian culture, you probably know about the special love for chocolate and other candy there. Chocolate is a great present for women of all ages, and when it comes in such an exquisite way, it will surely bring much joy to any recipient. Great gift for New Year, Birthday, Women's Day and just as a treat to your beloved one.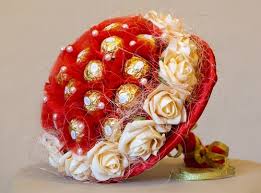 Such bouquet can be made only of candy with some decorative elements or a combination of candy and fresh flowers.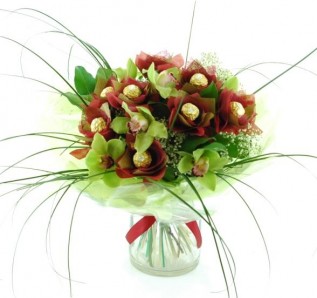 Soft toys bouquets
Another interesting bouquet has been growing in popularity in Russia these days – bouquet made of small soft toys. This is something we have never seen in the USA or Canada, so it could be the product of Russian florists' creativity.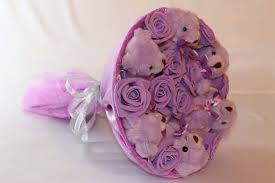 Such bouquet is a great gift for children or young girls.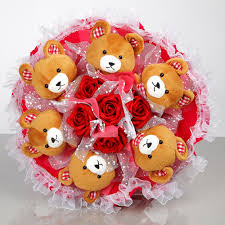 Fruit bouquets
Fruit arrangements are a great business gift. Original and beautiful from outside and delicious from inside, such gift can be easily shared among office personnel. Due to the seasonal availability, not all fruit and not in all areas of Russia are available at all times. So it is better to inquire in advance before you order such a bouquet to Russia.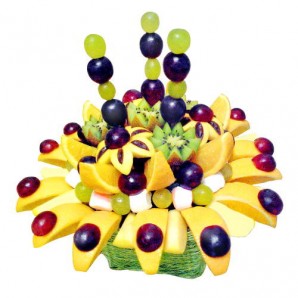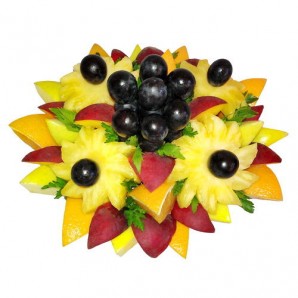 A few other ideas for gift giving were given in our blog post here. Whether you choose a flower gift or some other type of gift to send to Russia or Ukraine, FlowersUSSR are here to help you.
With such a variety of gift ideas and with international flower delivery company at your service it is so easy to surprise your beloved ones with something unusual. Most of these items are not listed in our catalog, so we invite you to contact us and inquire about availability and price in the particular city.