Our History
It was the year 2000 and we had a vision to provide a way for people to send flowers and gifts to their loved ones in the countries of the former USSR. It was a task that was quite difficult to do before, especially for those that didn't speak Russian or didn't have any relatives living in the country already. So we decided to connect with flower shops all across the former Soviet Union and offer them to participate in our unique plan. Our vision then followed in opening the very first company in the U.S. to offer flowers and gifts to the countries of the former Soviet Union, flowersussr.com. This is how our website looked like when we started.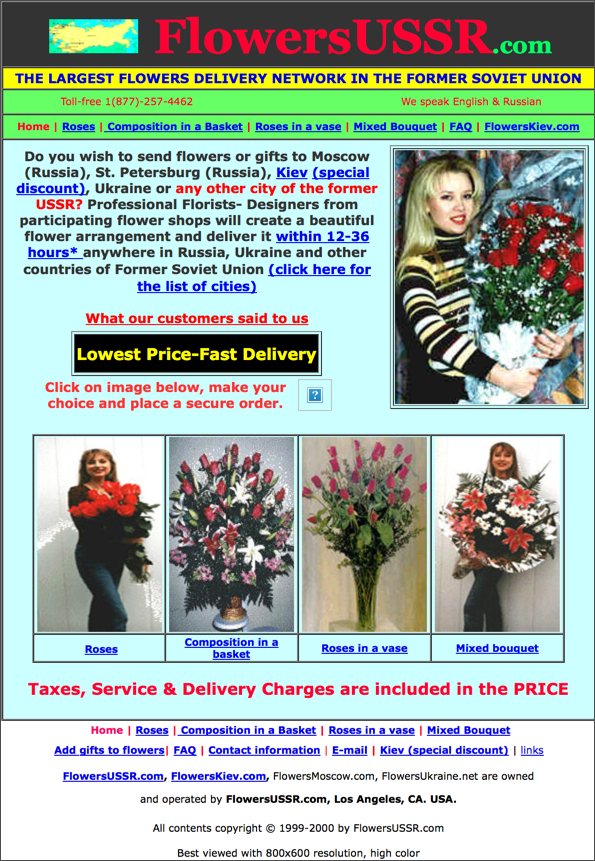 Yes, we and our website as well, have come a long way. The website has gone through some changes and updates, and finally, in summer 2014, we launched a completely new website that you can appreciate now.
What Makes Our International Flowers Delivery Company Different?
We have an extensive network of trusted professional local florists in countries of former Soviet Union, USA, Canada and many other countries. We do not relay our orders to other companies but rather work directly with local florists in each city we receive an order to. This allows us to keep our prices at the lowest possible level and provide you with customer care that is timely and responsive.
We are a small company and keep it this way intentionally in order to keep operational costs low and pass the savings onto you. We care about each order we receive and strive to provide the best experience in sending flowers oversees for our customers. If you do not find a flowers arrangement or gift that you like, send us a picture of the desired gift or bouquet and we will work around your preferences. A picture of delivery sent to you after the delivery will serve as a verification of quality of flowers and florist's work.
We always have the lowest possible prices. We don't do any sales gimmicks such as sales, discounts, or promotional codes because we offer the best possible value and quality for the lowest possible price to you every day.
Our team works without weekends or holidays; thus, there will be no breaks in communicating with you regarding your order. Same day deliveries are available to most cities. We constantly expand our territory of service. If you do not find a country or city you want to order flowers deliver to, contact us and most likely we can help you.
Our team is bilingual and when requested, can translate your card message free of charge.
With FlowersUSSR, there's no hit or miss which often happens when choosing a company to trust flowers and gift delivery to Russia, Ukraine and other countries. Whether you are sending roses to your beloved one in Russia, Ukraine or Belarus, birthday bouquet or gift basket to your relatives, friends or colleagues in countries of CIS, mixed flowers arrangement for any occasion to your dear ones in Eastern European countries, our team will make sure that you and your dear ones abroad are happy with the gift!