At FlowersUSSR, we take on the job of helping our customers send flowers and gifts to friends and family abroad. We know that a great deal of trust is placed in us when customers choose us to help them express emotions or acknowledge a special occasion in the form of beautiful fresh flowers. We take this responsibility seriously and our loyal customers can attest to that.
Our History
It was the year 2000 and we had a vision to provide a way for people to send flowers and gifts to their loved ones in the countries of the former USSR. It was a task that was quite difficult to do before, especially for those that didn't speak Russian or didn't have any relatives living in the country already. So we decided to connect with flower shops all across the former Soviet Union and offer them to participate in our unique plan. Our vision then followed in opening the very first company in the U.S. to offer flowers and gifts to the countries of the former Soviet Union, flowersussr.com. This is how our website looked like when we started.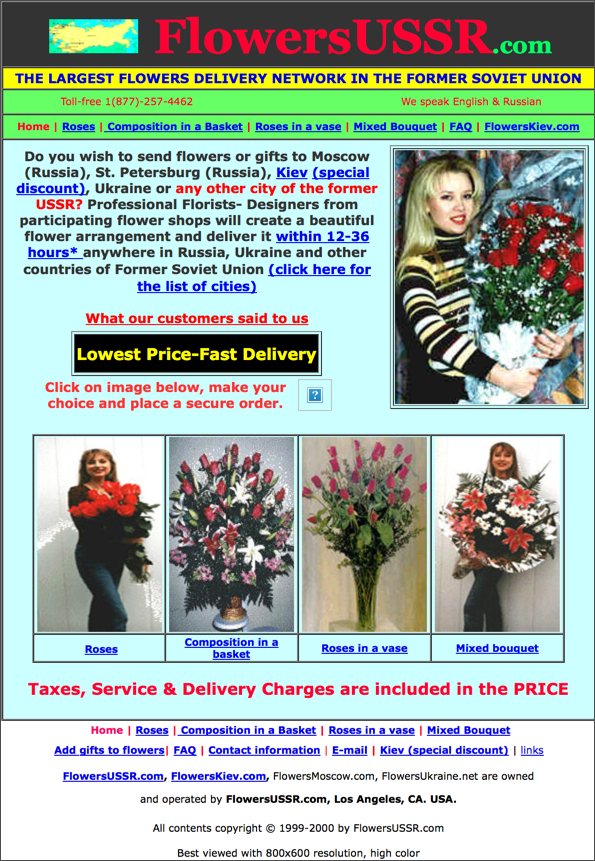 Over the course of the last 23 years, we have been growing and expanding our services. Nowadays, we deliver flowers to a wide range of countries, thanks to the trust placed in us by our customers and to our wonderful partners – local florists in many cities and towns of Europe, North America, South East Asia and Middle East.
We have changed, but our mission remains the same – we are here to help send flowers and gifts to your loved ones far away affordably and timely.
What Makes Our International Flowers Delivery Company Different?
Trusted Local Florists
We have an extensive network of trusted professional local florists in Russia, Ukraine, Kyrgyzstan, Kazakhstan and other countries of former Soviet Union, USA, Canada, Australia, Spain and many other countries. We do not relay our orders to other companies but rather work directly with local florists in each city we receive an order to. This allows us to keep our prices at the lowest possible level and provide you with customer care that is timely and responsive.
Competitive Prices
We are a small company and keep it this way intentionally in order to keep operational costs low and pass the savings onto you. We don't do any sales gimmicks such as sales, discounts, or promotional codes because we offer the best possible value and quality for the lowest possible price to you every day. The prices the customers see in the catalog for each location are the final prices, that already include the delivery and service fee.
Same Day Delivery
We offer same day deliveries of flowers to most cities. In some countries, for the same day delivery, the order needs to be placed by 9 am local time of the delivery destination, while in others, such as Russia, Kazakhstan, Kyrgyzstan, UAE, Thailand, Indonesia, Malaysia it is possible to arrange a delivery within 2-3 hours no matter what time you place the order.
Variety of Ways to Place the Order for Flowers Delivery
We offer different ways of placing an order for flowers delivery abroad. While most customers find it convenient to do it on our website, some people prefer to order flowers delivery contacting us on WhatsApp, Telegram, or email.
Personalized Customer Service
We care about each order we receive and strive to provide the best experience in sending flowers overseas for our customers. If you do not find a flowers arrangement or gift that you like, send us a picture of the desired gift or bouquet and we will work around your preferences. If you do not find a country or city you want to order fresh flower delivery to, contact us and most likely we can help you. We constantly expand our territory of service and respond to our customers' inquiries to send flowers to new locations.
Our team works without weekends or holidays; thus, there will be no breaks in communicating with you regarding your order. Our customers appreciate being able to contact us via messaging apps, such as WhatApp and Telegram or live chat. In addition, our team is bilingual and when requested, can translate your card message free of charge.
With FlowersUSSR, there's no hit or miss which often happens when choosing a company to trust sending flowers and gifts internationally. Whether you are sending roses, bouquet of mixed flowers or gift basket to your relatives, friends or colleagues in countries of CIS, South East Asia, the USA or Canada, Eastern European countries, our team will make sure that you and your dear ones abroad are happy with the gift!